IFFCO-Tokio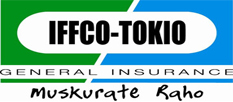 IFFCO-Tokio General Insurance (ITGI) was incorporated on 4th December 2000 with a vision of being industry leader by building customer satisfaction through fairness, transparency, and quick response. It is a joint venture between the Indian Farmers Fertilizer Co-operative (IFFCO) and its associates and Tokio Marine and Nichido Fire Group, the largest listed insurance group in Japan.
IFFCO Tokio General Insurance has Pan India presence with 58 'Strategic Business Units' and a wide network of over 110 Lateral Spread Centres and 268 Bima Kendras. It offers a wide range of uniquely customized policies covering a wide range of customers, from farmers to some of India's largest automobile manufacturers. From a modest Rs 213 Crores of GWP (Gross Written Premium) in 2001-02 it has achieved an impressive Rs 1851 Crores in 2010-11, thereby becoming one of India's leading private players.
Iffco Tokio's micro-insurance initiatives are driven by the vision of its parent company IFFCO which seeks to improve the quality of life of the Indian farmer. Rather than merely downscaling existing products, it has leveraged IFFCO's experience of the rural market to craft a product basket designed specifically for the agricultural sector.
Some of the rural products marketed by IFFCO TOKIO are : -
Janta Bima Yojna- This is a comprehensive customized policy offering a personal accident cover to the insured and his spouse on a floater basis and a fire & allied perils and burglary cover to the building(house) and its contents. Three options of Sum insured ( ranging from Rs. 12,500 to Rs 30,000 for the property section and Rs. 15,000 TO Rs .50,000 for the personal accident section and premium payable ( ranging from Rs 100 to Rs 250), are offered. The policy can be taken on an individual or group basis.
Particulars

Option 1 (S.I.)

Option II (S.I.)

Option III (S.I.)

Section 1A Fire:-
Building

12,500

25,500

30,000

Section 1B Fire:-
Contents

12,500

25,500

30,000

Section 1C Fire:-
Contents

12,500

25,500

30,000

Section II Personal Accident

15,000

30,000

50,000

Premium (including S.T)

100

200

250
Two Wheeler Policy- ITGI's comprehensive package policy for two wheelers covers Loss or damage to the vehicle insured, Personal Accident and Third Party Liability.
What the Policy Covers
Loss or damage to your vehicle
Any loss or damage caused to the vehicle due to the following natural and manmade calamities.
Natural Calamities - Fire, explosion, self – ignition or lightning, earthquake, flood, typhoon, hurricane, storm, tempest, inundation, cyclone, hailstorm, frost, landslide, rockslide.
Man made Calamities – Burglary, theft, riot, strike, malicious act, accident by external means, any damage in transit by road, rail, inland waterway, lift, elevator or air.
Personal accident cover: The motor insurance provides compulsory personal accident cover of Rs.1 lakh for individual owner driver of the vehicle insured while traveling in, mounting or dismounting accident cover for pillion rider.
Third party legal liability:
Protects against legal liability arising due to accidental damages, any permanent injury/death of a person and/ or any damage caused to the property.
Jan Kalyan Bima- This provides comprehensive protection against loss or damage to the property insured by Fire and allied perils and burglary & house breaking. It also covers risks of Personal accident and 10 Critical illnesses. The sum assured is Rs 50,000

Jan Suraksha Bima- This is a Personal accident policy for Self Help Groups providing coverage against death, permanent total disablement, permanent partial disablement and temporary total disablement resulting out of an accident.

Mahila Suraksha Bima Yojna- The coverage is same as that of Jan Suraksha Bima Yojna and is meant for women Self Help Groups only.
Janta Personal Accident- is group personal accident coverage for poor. It provides relief in the event of death or disablement of the insured. The maximum sum insured under the policy is Rs. 1 lakh.

Sankatharan Bima Yojna- was launched in September 2001. The product is IFFCO Tokio's unique innovation – bundling personal accident insurance with sale of fertilizers. The coverage is Rs. 4000 per bag of 50 Kgs upto maximum of Rs.1 lakh. The sales memo acts as proof of insurance.
Pashudhan Bima Yojna- is a cattle insurance policy applicable to indigenous, cross breeds and exotic breeds of cattle, covering the death of the animal due to accident, disease, surgical operations, strike, riot and civil commotion (SRCC), terrorism and earthquake.

Barish bima Yojna (BBY) - This is an Index based Weather Insurance Product for Kharif (monsoon) crops like Jowar, paddy, soyabean, cotton etc. which provides cover for financial losses arising due to deficient or excess rainfall. The cover is operative during the monsoon months i.e. July to September/ June to September/ July to October. The maximum Sum Insured under the micro version of this policy is Rs. 30000/-.

Mausam Bima Yojna (MBY) - The policy provides cover for Rabi crops like Wheat, Mustard, Potato etc. against financial losses arising due to adverse weather perils- Temperature, Humidity and Unseasonal Rainfall during the Rabi season. The maximum Sum Insured under the micro version of this policy is Rs. 30000/-.
For more details log on to www.iffcotokio.co.in